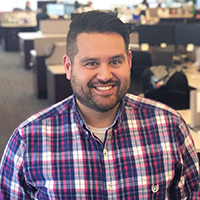 ---
Four Downfalls to Self-Funded HaaS According to Paul Dippell
Takeaways from the CEO of Service Leadership on Self-Financing Client Projects
Earlier in Q4, GreatAmerica teamed up with Paul Dippell of Service Leadership to present a two-part webinar series addressing how Managed Service Providers (MSPs) can minimize financial risk and maximize profitability during an economic downturn. Both Part 1 and Part 2 also provided tremendous insight from a fellow MSP who has successfully implemented Hardware as a Rental (HaaR) with the help of Service Leadership and GreatAmerica.
In this blog, I speak to a topic near and dear to my heart as a professional whose main objective is to help my customers excel – self-funded Hardware as a Service (HaaS). Paul provided four key reasons an MSP should steer away from using their own cash to fund customer projects and I am going to highlight each.
What is Hardware as a Service (HaaS)?
If you consider yourself an expert on the topic, go ahead and skim right past this section. If you are an MSP opting for a traditional HaaS model, you fund the upfront costs of your customers' entire solution either with your own cash or through a credit line. You recoup your funds over the course of 12 to 60 months.
Some positives to operating on a self-funded HaaS model:
Complete control of the customer experience
Flexibility on interest income
Recurring monthly revenue
Some negatives to operating on a self-funded HaaS model:
Risk of customers not paying
Administrative burden
Tied up credit lines or restricted cash
Read on for Paul Dippell's take on the implications self-funded HaaS presents for MSPs just like you, but do not worry – I will provide alternative options so you can find the best solution for you and your company.
Downfall #1: Self-Funded HaaS Hurts your Financial Early Warning Score (FEWS)
Those that benchmark with Service Leadership are familiar with the Financial Early Warning Score (FEWS) – a score that indicates your financial safety if revenue is not what you expect. Part of that is based on the strength of your balance sheet.
The problem with self-funded HaaS is the more successful you are at selling, the weaker your balance sheet becomes.
Downfall #2: Self-Funded HaaS Hurts your Safety
Using your own cash to fund a prospect's solution creates a large amount of risk for you. After going through the hoops of modeling a proposal, underwriting your prospect's credit, creating the documentation, booking the contract, administering the billing and collecting, are you and your team equipped to litigate if needed? What additional processes or personnel need to be added to reduce your risk, and would your cash flow be positive if you did so?
All too often I hear stories of a customer paying late, halting payment entirely, or going out of business. The result? The originally projected profitability of the solution is jeopardized and you may end up taking the loss. Depending on the size of the transaction and the size of your HaaS portfolio, this loss could affect the profitability of your entire program.
Related: Beware of the Financial Risk of HaaS Deals
Downfall #3: Self-Funded HaaS Hurts Your Ability to Accelerate
This point may be the most harmful – if you consider all the initiatives your company strives to achieve, how successful will you be if your cash is dwindling? Between hiring, marketing, sales incentives, and office upgrades/expansions, self-funding your customers' projects can really take a toll on your ability to advance.
Imagine that your business development team has brought in the unicorn client – a client that your organization has been chasing for years, who needs a complete infrastructure refresh, but your organization is already overextended with other newly deployed HaaS projects. Does this cause a delay in your ability to provide a solution to this new client? Does it create an opportunity for a competing MSP?
Related: How is Hardware as a Rental (HaaR) Different from a Lease and Hardware as a Service (HaaS)?
Downfall #4: Self-Funded HaaS Reduces your Value in a Company Sale
While self-funded HaaS would increase your Monthly Reoccurring Revenue, it will also increase your risk and debt position. Since Equity is equal to Assets minus Liabilities, substantial amounts of debt can instantly hurt business valuation as a company may owe more than it is worth.
With funds tied up in self-funded HaaS, less cash is available for growth through new locations, business acquisitions, or additional personnel. Having a strong cash position can provide flexibility as your marketplace evolves.
Finally, what is your endgame for your business? For most, it is to maximize the company's selling price to retire, or to leave the marketplace and pursue a different passion. In this case, having significant liabilities on your balance sheet can quickly turn potential buyers away.
The Solution: Utilize a Third-Party Financing Company to Support a HaaS Model
By allowing a third party into the relationship, your company will experience the benefit of being cash flow positive from day one, fewer Days Sales Outstanding (DSO), and much less risk. Are you wondering, "Can you just work directly with the client?" If so, find out why the three-sided relationship is so important in this blog. You get to leave the administrative burden to the experts, so you can focus on exactly what you are best at: helping your customers technologically advance.
Mike Langfald
Mike Langfald is a Director of Business Development in our Unified Communications & IT Group at GreatAmerica, focusing on Solution providers across the Southeastern United States. Mike dedicates his time to helping partners achieve greater success by building recurring revenues through customized solutions. He came to us in 2013 as a Vendor Relationship Manager in our Office Equipment Group after almost 18 years in retail management and graduating from Iowa State University with a degree in Management. When he is not at GreatAmerica, Mike enjoys smoking meat, cheering on Chicago sports, nerding out on the latest superhero movie, and spending time with his family.