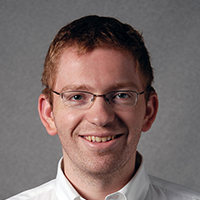 ---
4 Ways to Use LinkedIn for Sales
I've taught dozens of classes on LinkedIn during my time at GreatAmerica, and as LinkedIn has evolved, so have my classes. My most recent iteration, LinkedIn 201: Using LinkedIn for Sales, hit the preverbial nail on the head within GreatAmerica, so today I'm sharing the meat of that class with you. LinkedIn is no longer a resumé or a Rolodex, so make sure you know how to use LinkedIn for Sales!
Use LinkedIn for Research
One thing many people don't know about LinkedIn is its crazy search capabilities. Apply those not-so-secret superpowers to your own sales process and your ideal prospect. Think about the characteristics that define your ideal prospect, what are the characteristics that matter to you? What defines the prospects you would do anything to work with?
Examples of characteristics:
Job Title — Who do you work with regularly? President? vCIO? CTO? Don't search for "sales manager" if only the Vice President of Sales can make purchasing decisions.
Location — Are you responsible for a certain state or territory? Looking to expand a particular metropolitan region?
Products or Services — What products or services does your ideal prospect sell? For example, if you offer Managed IT services, but don't support Apple products, don't search for prospects selling Apple.
Take these ideal prospect characteristics back to LinkedIn. You're ready to search!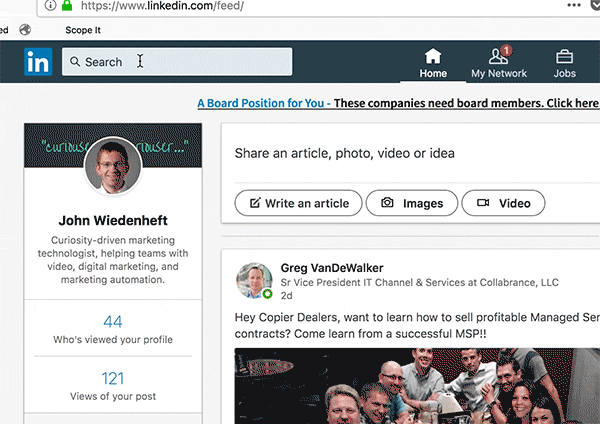 Use LinkedIn for Relationship-Building
The "sales process of yesteryear" would have you making a certain number of cold calls per day, per week, per month. You would spend your time educating your customer, telling them about you, and why they should do business with you and your company. However, if you were to instead focus building a relationship with your prospects, those sales become easier to close.
Here are three main reasons why you would use LinkedIn for relationship-building...
Reduce or eliminate cold calls and cold emails
Warm up your contacts/prospects
Top of mind awareness
...and three ways how to use LinkedIn for relationship-building:
Connect with customers and prospects
Comment on other people's posts
Join industry-related groups
You can do this all in 5 minutes a day. Like one post per day, comment on one post per day, and you will stand out above the majority of your LinkedIn network.
Use LinkedIn to Publish and Share
If you're more stalker than sharer on LinkedIn, you've got some learnin' to do, Lucy! Many of the sales reps who took my earlier classes would ask why should they share on LinkedIn. Here are the three main reasons we've found:
Connect with customers and prospects
Share your or your company's industry knowledge and expertise
Top of mind awareness
Now that you're totally convinced to publish content on LinkedIn, you're probably wondering what to publish. Here's some tips and examples:
Articles, news releases, blogs, videos from your company
Articles, news releases, blogs, videos from your industry
Articles, blogs, videos from you
Re-share
Re-post
Just like in Step 2, you can publish and share on LinkedIn in only a few minutes each day.
Use LinkedIn for YOU
LinkedIn is more than an online resumé or Rolodex in 2018. LinkedIn is the window in which you can see your future customers. Here are some simple ways to ensure your prospects and future customers see the right things.
Make sure your profile focuses on your Buyer.
Why do you work in your industry?
How do you help your customers?
What do you do/sell/offer?
By doing these three things, you ensure that your LinkedIn Profile is no longer a resumé. Instead, you're showing customers and prospects why you care about them. You're showing customers and prospects how you can help them. Prospects will feel more comfortable working with someone who cares about them rather than someone who is just trying to make a sale.
Ensure your success using LinkedIn for Sales
LinkedIn is the best social media platform for business. Even with the many changes to the platform over the years, the focus continues to be providing value for businesspeople around the world. It's my hope that these 4 ways to use LinkedIn for Sales make you more comfortable using LinkedIn as part of your sales process.
Resources: Speaking of TRUST, read this blog on the Top Two Reasons People Aren't Doing Business with You!