---
Paul Dippell's Strategies for Safety and Success in 2021
A Recap of a Recent Webinar with GreatAmerica and Service Leadership
If there is one thing I've learned between the "you're on mute" and "I can't see your screen" comments amidst the sudden shift to virtual everything, it is that even the most mundane technology toggles can summon your humility.
After a stumble out of the gate over the technology – and a good laugh shared by all – we covered a lot of ground in the webinar revealing key success factors for 2021.
To get in on the laughter yourself, and to get advice from some proven winners, make sure you watch the webinar.
Read on for a thorough recap of what you missed.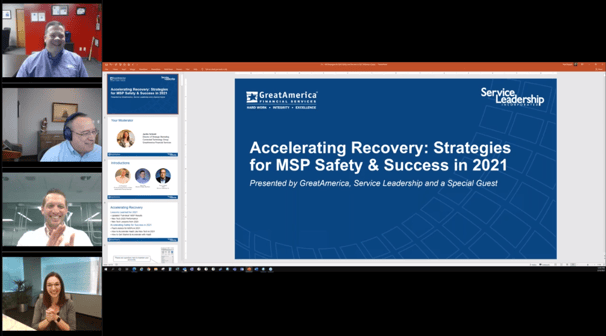 How did MSPs perform on average in 2020?
Paul opened up the webinar by sharing the bottom quartile of MSPs and their profitability across product offerings. These are the companies that did the worst in terms of profitability. In the chart shown, there were a few items to highlight:
Overall, the bottom quartile grew revenue in 2020 by 2.1% over 2019.
Product resale was down 9% compared to 2019.
Cloud resale was up 50%.
Managed services were up 5%.
Moving onto the top quartile of MSPs, the trends were generally much better. Interestingly, with the top quartile:
Product resale was down 11%.
Cloud resale was up 33%, but not as fast as the bottom quartile folks.
Managed services grew by 11%.
Overall revenue growth was 6.5% for the top-performing MSPs.
Both groups sold less traditional product in 2020, but accelerated cloud resale.
Where were the best-in-class spending their time?
The top performers grew their professional services, and they also grew their managed services more than 2X the rate of the bottom performers. By focusing on their own managed services growth, the top performers grew 3X as fast as the bottom quartile. This tells you they put a lot of their effort into their full-meal offerings.
The Service Leadership Index® indicates the best-in-class performers have over 60% of their contracts as full-meal managed services.
What is "full-meal managed services"?
Full-meal managed services is when your customer is buying the highest level of services that you offer. When an MSP can add the hardware to that mix, it certainly increases the value of the offering, and has the added benefit of creating standardization across the board.
Paul jumped in here to add a nugget of information that drives home the point, "MSPs have the highest general administrative expense (GA) of any of the ten predominant business models. The reason for that is the complexity of billing and paying A/R. If you can simplify the billing process, you can reduce your GA."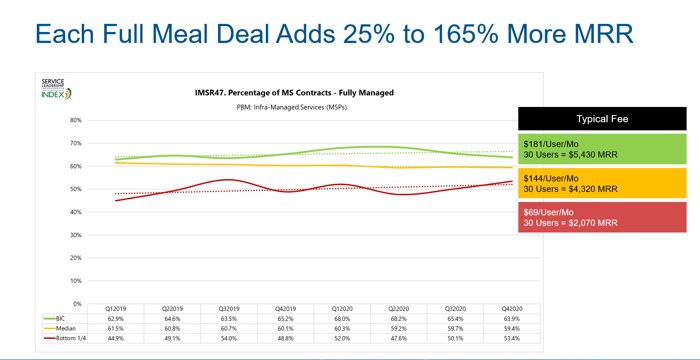 If you look at the above chart, you'll see that the average charge per user is about $181 per user per month. If the average account is 30 users, for the best-in-class, the average account is generating $5,400 in managed recurring revenue (MRR). For the median MSPs, the average charge is $144 per user per month, producing 25% less in MRR. The bottom quartile sell so many contracts that are not full meal and exclusively focused on price, that the average charge per user per month falls to $69. The most painful realization here is that all three classes of MSPs spend about the same to win a deal in 2020. Ouch, right?
By focusing on full meal HaaS contracts, the best-in-class MSPs pay off their sales and marketing costs around 2.5X faster.
The bottom line: now is the time to strike on full meal including HaaS. Why? Historically, decision-makers are more likely to buy Managed Services when their companies are growing or shrinking at a fast rate. Customers need IT help badly, but don't want to spend their capital. This is especially true with the increased security threats presented by both work-from-home and return-to-work computing needs.
Related: Four Downfalls of Self-Funded HaaS According to Paul Dippell
How did your peer, Nex-Tech, specifically perform in 2020?
Lee Rozeboom, Managing Director of Sales with GreatAmerica, stepped in here to introduce Steve Riat, Director of Sales at Nex-Tech. Lee first met Steve around 12 years ago in a peer group now known as IT Nation Evolve. After bonding over some football smack-talk, Lee and Steve identified some commonalities in business goals: helping other MSPs find success.
Nex-Tech is a Managed Service Provider out of Hays, Kansas, serving most of western Kansas. The company focuses on connecting thousands of clients through a robust broadband network and cutting-edge technology.
Lee points out that Nex-Tech did not simply dip their toes in full meal HaaS; they went all in from the start.
Nex-Tech's Financial Report Card Presented by Paul Dippell
By benchmarking with Service Leadership and utilizing GreatAmerica's HaaS offering, and with Steve's permission, Paul is able to share the company's detailed financial reporting.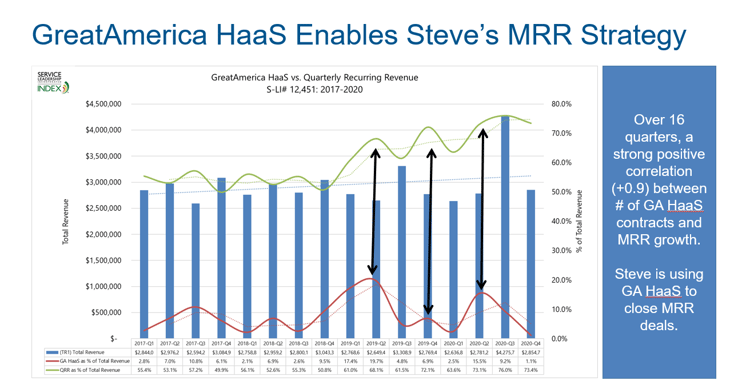 As you can see in the visual above, there is a significant correlation between Nex-Tech's MRR growth and the number of GreatAmerica HaaS contracts. Simply put, Steve and his team are using GreatAmerica HaaS to close more MRR deals.
The green line is the percentage of Steve's revenue that is a result of recurring revenue. The more MRR deals closed through GreatAmerica's HaaS offering is directly driving Nex-Tech's recurring revenue.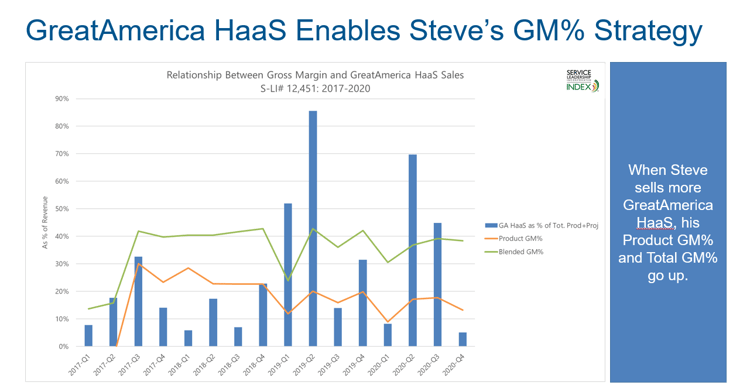 The above orange line represents Nex-Tech's product gross margin. The green line is his blended gross margin (product/service gross margin together). The blue bars are the percentage of Nex-Tech's total product and project revenue that is being run through GreatAmerica. Every time the blue bars go up, more HaaS contracts are being sold and the overall margins go up. It is a very clear pattern.
From 2017-2020, Nex-Tech increased annual revenue by 13.6% on average (from 54% to 72%)
2020 Lessons Learned to Apply Forward
Steve Riat took the floor to share his personal advice based on what has and hasn't worked for his company over the last 12 months. When asked how Nex-Tech was able to pivot at the onset of the pandemic in early 2020, Steve shared:
"We shifted and shifted quickly. A lot of our competitors and peers were expecting the world to go back to normal, so we took advantage of the opportunity to go all in to the new virtual environment. We took the time to train our team on selling and closing virtually. It took a lot longer than we expected, but the effort and time proved worthwhile."
Takeaway: Don't Be Afraid to Pivot from Traditional Processes
Related: 5 Qualities of Organizations Positioned to Resurge After COVID-19
Steve added that his proposals do not go out the door without the monthly payment option. A talk-track he suggests is, "You are going to get an all-inclusive monthly cost to budget for. If this is out of line from what your business goals are, this may not be the best fit for you."
Takeaway: Lead with a Monthly Payment Option, Every Time
Related: Why Leading with a Monthly Payment Provides Value in Any Economic State
What is Paul's advice for MSPs in 2021?
Paul's advice comes across as quite simple: go all in with full meal HaaS. He also points out that it is OK to be selective with your clients. Be vigilant in your proactive client-vetting; be sure to check a client's business credit. Lean into your sales and marketing efforts. Avoid customers that are not in your target customer profile.
Paul adds that in economic downturns, about a quarter of MSP clients and prospects are mature and sophisticated businesses, and still performing well. This often results in these companies transitioning to a Merger and Acquisition (M&A) strategy. MSPs can be a key enabler in a prospect's M&A strategy by saying, "Look, many of you are embarking on an M&A strategy. Let me tell you how we can help. First, we can get your infrastructure in a condition to absorb growth. Second, we can do IT due diligence on a project-basis on the companies you are considering purchasing. Third, we can do a tech stack swap and get those companies on your technology stack with a Hardware as a Service approach."
Related: Is Now the Right Time to Buy or Sell a Solution Provider?
How to Get Started with HaaS
As you consider shifting to a full meal model that includes hardware, it is important to know you have a full team of advisors and peers to support you every step of the way. Our first recommendation is to calculate your Operational Maturity Level (OML).
Calculate your Operational Maturity Level (OML)
This free OML assessment tool takes the best practices of successful technology companies offering As-A-Service, and creates benchmarks to help you create opportunities for growth and opportunity.
Working closely with Service Leadership, we identified the traits of top MSPs, VARs, and other technology providers, and built them into a simple five question assessment that will provide you with your As-A-Service OML, and allow us to provide recommendations on what to do next.
Learn about GreatAmerica's Integration Capabilities
We offer several integrations to drive this program through the platforms you use every single day, including:
ChannelOnline
ConnectWise Sell
QuoteWerks
Tigerpaw
Salesforce
CorsPro
ConnectBooster
Learn more about GreatAmerica Integrations here.
Are you ready to roll? Let's talk. Contact us today. Onward!
P.S. Are you feeling the momentum as a result of Service Leadership insight? We've got plenty more where that came from. Check out three webinars from 2020 that offer invaluable insights from Paul Dippell.
GreatAmerica
GreatAmerica is the largest independent, family-owned national commercial equipment finance company in the U.S. and is dedicated to helping manufacturers, vendors, and dealers be more successful and keep their customers for a lifetime. A $2.4 Billion company, GreatAmerica was established in Cedar Rapids, Iowa in 1992 and has a staff of over 600 employees with offices in Iowa, Georgia, Minnesota, and Illinois. In addition to financing, GreatAmerica offers innovative non-financial services to help our customers grow. www.greatamerica.com