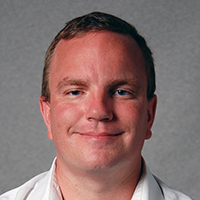 ---
Selling Managed IT Services? These Three Questions Will Tank Your Credibility
Updated 1/20/22. Originally published 12/12/19.
I attended a Sales Simplicity Seminar presented by Alex Rogers, CEO of CharTech, back in 2017. Gaining a better understanding of my customers' experience when they sell Managed IT services motivated me to attend this 2-day training session. Initially, I expected the training to bear similarities to my GreatAmerica sales training and was looking forward to getting first-hand knowledge from Alex, who is widely considered one of the best consultants in the industry. But I learned so much more than I anticipated. Alex is energetic and extremely passionate about helping solution providers be more successful. As CEO of his own technology company, Alex has faced many of the same problems as his peers – that's why the two-day seminar was developed by a technology company for technology companies. He is quick to challenge solutions providers to grow beyond a commodities-based seller and become a trusted advisor who can help their customers think critically about their businesses.
Related: Selling IT with Technology Financing – Q&A
One of the first steps in building trust is to improve the way you ask questions.

Alex's training suggests making some small but impactful tweaks to the way you ask questions in your discovery process for better results. Below are three example questions that your sales reps may be asking your customers and some suggested improvements that help you better understand needs and build credibility:
Question #1 - How Old Is Your Equipment?
The first thing Alex teaches is to identify and understand what your customer needs. You may want to sell the latest and greatest technology to your customers, but it may not be right for them.

Better Phrasing: How are you currently using your equipment?

Alternates: Are there any issues with the technology? Is there something you wish your technology could do?
Question #2 – Do You Have Anti-Virus?
With high profile cyber security breaches on everyone's mind, you need to dig into the current status of their IT security is and how big of a concern it is to them. With some simple phrasing tweaks, you can instead ask a question that may help you uncover vulnerabilities in your prospect's technology environment that they aren't even aware of.

Better Phrasing: How much emphasis does your business place on security?

Alternates: Do your partners see you as a security risk? Do you have a current process that could be a security risk? What measures are you taking to ensure cyber security?
Related: SOC-as-a-Service and Why It's Critical for SMBs
Question #3 - Are You Happy with Your IT Person/Provider?
Sure, they might be happy with them—they might even be friends. What you need to understand is whether the IT solutions they have in place are working.

Better Phrasing: Is your current IT provider accomplishing what you need?

Alternates: Is there something you wish your technology provider offered? How often are you in contact with your technology provider?
RELATED: 3 Signs It's Time to Outsource Your Managed IT

You may have noticed a pattern here – the original questions can be answered in one or two words, whereas the suggested phrasing and alternate options prompt deeper conversation. Check out this video from Alex where he explains how to ask questions that build your credibility as you're selling managed IT.

Solution providers who have attended this training have found greater success closing deals and building their recurring revenue. By attending the Sales Simplicity Seminar, you gain a proven process for closing As-A-Service business and the confidence to be a trusted resource for your customers.
---
Register for the March 2022 Sales Simplicity Seminar
Interested in attending one of these sessions for yourself? If you desire higher closing ratios and more recurring revenue, I highly recommend attending this training. Our next Sales Simplicity Seminar, led by CharTec, will be held in March 2022. To learn more about this exclusive sales training and to reserve your seat, click the button below!
Matt Lacina
Matt Lacina is a Vendor Relationship Manager with GreatAmerica Financial Services. Matt supports Independent Office Equipment Dealers by offering financing solutions and value-add business services to help dealers differentiate themselves, close more sales and build recurring revenue streams. Matt has been involved in lease financing since 2013. In his spare time, he loves spending time with his wife, 3 kids and working on many outside projects. Matt graduated from Mount Mercy College with a B.A in Accounting and Business Administration.