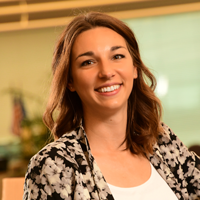 ---
A Business Fountain of Youth: How to Keep a Youth Mindset to Grow Your Company
It is always a treat for me to get the opportunity to hear from the founder of GreatAmerica, and this month I got that opportunity twice. The latest time was at the GreatAmerica Annual Awards Event, where our company celebrates the previous years' accomplishments and recognizes those who went above and beyond.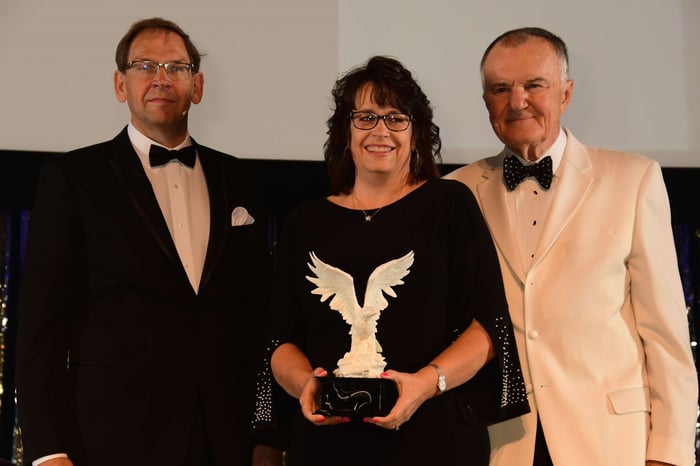 Kristi Chambers, Executive Administrative Assistant (center) for the Unified Communications & IT Group accepts the elite Outstanding Achiever award from Stan Herkelman, President (left) and Tony Golobic, Founder (right).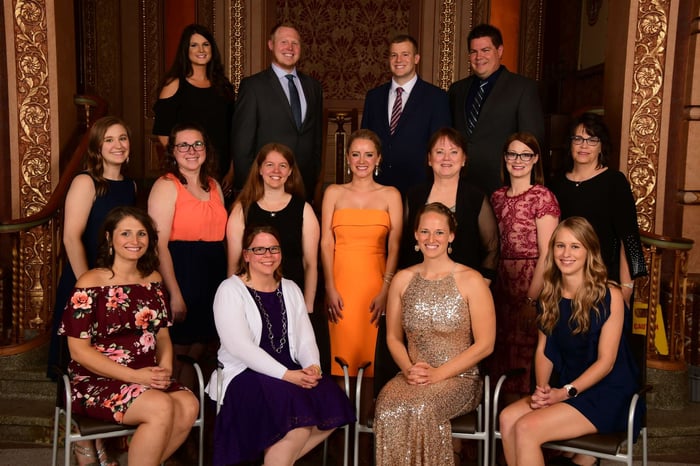 All Outstanding Achiever winners for 2019, an elite group of 15 individuals out of nearly 600 employees.
The awards ceremony itself ends with the exclamation point of having Tony Golobic, the founder and chairman of the board for GreatAmerica deliver a keynote address. This year he spoke about the importance of growth for a company and how that keeps a company in a young state of mind.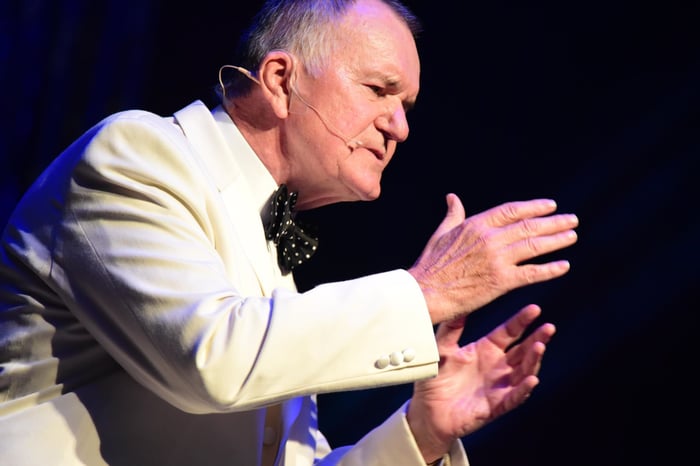 Tony Golobic delivers the final keynote at the 2019 Annual Awards event.
Tony also spoke about this topic in length earlier in the month with leaders in the company, and gave a lot more insight into a youth mindset for keeping companies "forever growing."
In both discussions, Tony mentioned that a majority of companies who fail to grow, will shortly either go out of business, or get sold. I believe that comes from this HBR article from 2008 that shows 87% of companies in a Harvard research project have suffered from one or more "stall" points, which the article points out, companies rarely bounce back from.
Life Cycles in Business and Human Nature
The discussion here started out in an interesting way. Tony said just like humans, companies can be social and living entities. That said, he compared a business' lifecycle to that of a person, and preempted the statement by saying he is talking about mental age, which is different than chronological age.
Life Cycles of Human Nature
First, there is infancy where everything is new and exciting, which turns into adolescence, then you mature into a capable and confident adult. These years tend to be full of new experiences, innovation, competitiveness and growth for many. We take risks, and understand what leads to our successes and failures.
Generally speaking, around the middle to late 40s people tend to plateau. We become uncomfortable with the things that are unknowns to us, and are unwilling to risk our status and success on the things that are unfamiliar. We tend to get content around this age, and are reaping the rewards from the risks we took early in our lives. There is a level of respect we've earned at this age, and resist reinventing ourselves.
Then by the time we get to our 60s and 70s, we are on our way to retirement, and perhaps coasting to get there. Now, we might challenge anything that is a risk. Many times when the older generation retires and loses their purpose in work, their mental age deteriorates rapidly.
Life Cycles of a Business
The same cycles that we experience as humans, happen in businesses as well. Those infancy and adolescent years are full of innovation; of dreaming of what the future will hold for our company; of striving to grow and compete with at the next level.
Maturity comes in those adult years, and the company is growing and feeling successful and confident in the decisions they've made. Companies in this stage are comfortable taking some risks, but tend to put more thought into those decisions.
The stalling points the HBR refers to, can happen in the later stages of a business' lifecycle. Tony warns us not to become too comfortable with our success that we become complacent. That warning is a good one for all business owners.
A Growth Mindset
No, this isn't a made up chart, but instead demonstrates the growth of GreatAmerica assets over the past 25 years.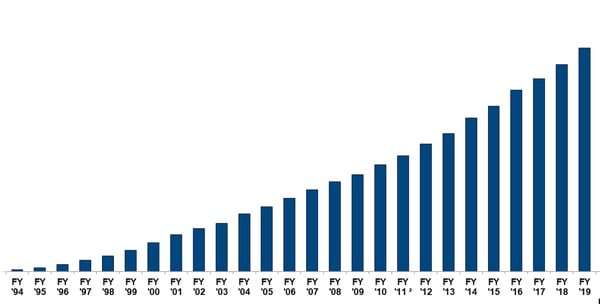 What this chart represents is a point of pride among each of our employees. GreatAmerica has grown every year since Tony started the company, and that growth has been thoughtful and steady. Tony says he gets asked the question of whether GreatAmerica should shift the focus away from growth, since we are already more successful than he ever dreamed.
The response is that without a growth mindset – and not just revenue or asset growth – a company risks the drive to stay competitive, and becomes complacent.
"May our competitors have 20 years of great success."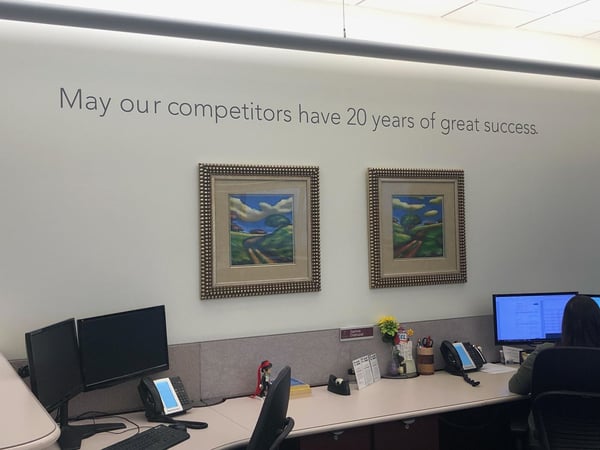 If you ever get the chance to visit us, be sure to look around for the hand-picked quotes from Tony all over the building. This one is particularly fun for a lot of us, because while originally the quote was targeted at our competitors to be successful, so we had that healthy drive and were always striving to stay competitive. Today, we have had well over 20 years of success, and this quote is a great reminder to us not to become complacent with all that success.
How Companies Can Stay Forever Young
The fun part about a growth mindset is having permission and even the expectation to continue dreaming about the future. Tony challenged each of us to think of GreatAmerica as a young, innovative company. As long as we have audacious and ambitious goals, and are striving to grow each and every year, we will continue to be a healthy business.
That, is the crux of what the message was on staying forever young. Companies who aren't afraid to try new things and take the right kinds of risks stay young forever. The final challenge we received from Tony, and that I'll leave with you is always make sure you are "playing to win, and not just to not lose."
Jackie Schmid
Jackie Schmid is the Director of Strategic Marketing of the Unified Communications & IT Group at GreatAmerica Financial Services located in Cedar Rapids, Iowa. Jackie is responsible for building brand awareness and gaining strategic relationships through creative marketing. Prior to joining GreatAmerica, Jackie worked in the TV News industry as a producer and executive producer at the local CBS and FOX stations where she helped shape the programs delivered to the market. Jackie's finance career began in 2011 when she joined GreatAmerica to support the sales team serving the Office Equipment space.