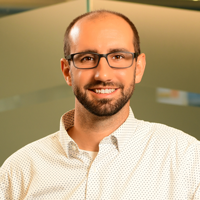 ---
How does GreatAmerica and financing influence the growth and profitability of managed services?
GreatAmerica makes a lot of claims about how we help Managed Service Providers grow their business and improve their profitability. Among the claims, there is one that we are often challenged on – and I'd like to address it: "How does GreatAmerica impact growth in managed services when those services aren't financed?"
Why We Claim to Help With MRR and Managed Services
The answer to how financing ultimately influences MRR and managed services growth can be narrowed down to the following statements:
Financing helps MSPs sell more products;
Product resale is a critical element of standardization; and
The most efficient and profitable Managed Service Providers enforce standards for their clients.
As Paul Dippell, CEO of Service Leadership, stated in a webcast one year ago, "Standardization is made easier with financing."
Thus, GreatAmerica can influence the growth and profitability of your managed services through standardization and product sales.
The Three Pillars of Managed Services Profitability: Product Sales, Standardization and Service Efficiency
While the above statements could seemingly explain everything, you might want some proof, or at least a little elaboration on how each element – product sales, standardization and service efficiency – is influenced by financing.
Financing and Improving Product Sales
Many times, Managed Service Providers say they aren't in the business of product sales. The good news is that to be a successful MSP, you don't have to be a product-focused company; you just need to include product as an element of your strategy. In a conversation with Bryan Currier, owner of Advantage Technologies, he shared how he thinks about product:
"I couldn't imagine our business running the way it does if product was not a core part of our strategy. Are you going to get massive amounts of points on them? Of course not. We live in the era of Amazon on the internet that is just not the way it is."
Related: Product Resale and Financing Increases an MSP's Growth and Profitability
Financing enables MSPs to sell more products in three ways:
Financing Makes it Easier for Customers to Buy Your Offerings
In a recent survey, 81% of executives and 70% of sales people we asked said it was easier for customers to say "yes" to their proposal when they offered a monthly payment.
Technology buyers agreed, and in a separate survey, 64% confirmed it is easier to make a technology acquisition when a monthly payment is provided.
Financing Helps Your Customers Get All of the Technology They Need
Has a customer ever reviewed a proposal for a project, picked out some of the more expensive items, and then decided they don't need them? If those expensive products are critical in delivering the best possible service to your clients, it becomes more challenging to create value with customers. Monthly payments help your customers' budget for all of the technology that is critical for an end-to-end.
Related: Download our Quoting Best Practices eBook for tips on creating proposals your customers will say "yes" to.
Financing Helps Your Customers Budget for Future Product Sales
When you provide monthly payment options, you aren't only providing a convenient way for your customer to buy today's solution; you're also creating a predictable budget for future technology upgrades. Financing provides a perpetual budget and a way to make future product sales to a company you are hoping to keep on managed services as well.
How Financing & Product Sales Makes Standardization Easier
More mature MSPs have learned how to leave behind the struggle of onboarding a new client and stumbling their way through supporting each new customer's unique environment. They do it by standardizing their clients in a way that makes each more supportable.
Most MSPs we talk to acknowledge that standardization is important, but encounter two challenges: getting customers to invest in the standards, and deciding what to standardize and when.
When we asked Currier to explain how this works for him, here's what he said:
"I want every single one of my clients having a firewall system that I sell and support; every one of them. If I have to walk in and do a sale every time of that firewall or the BDR, that becomes more challenging. If I can wrap it into our service, it is easy for the customer. We bundle together the on-boarding, anticipated project, and the monthly managed services. They're writing one check."
Bundling the project implementation in with the managed services takes financing to a whole new level, and you can more thoroughly understand the differences between our Hardware as a Rental (HaaR) offering, traditional HaaS, and standard leasing.
The Relationship Between Product Standardization and Service Efficiency
Standardization drives down the cost to service each client, therefore driving up the profitability of managed services. In a 2013 webcast we did with Service Leadership, Paul Dippell talked about that very impact. Recent numbers from the Service Leadership Index© confirm that more mature MSPs who standardize have higher revenues and lower costs.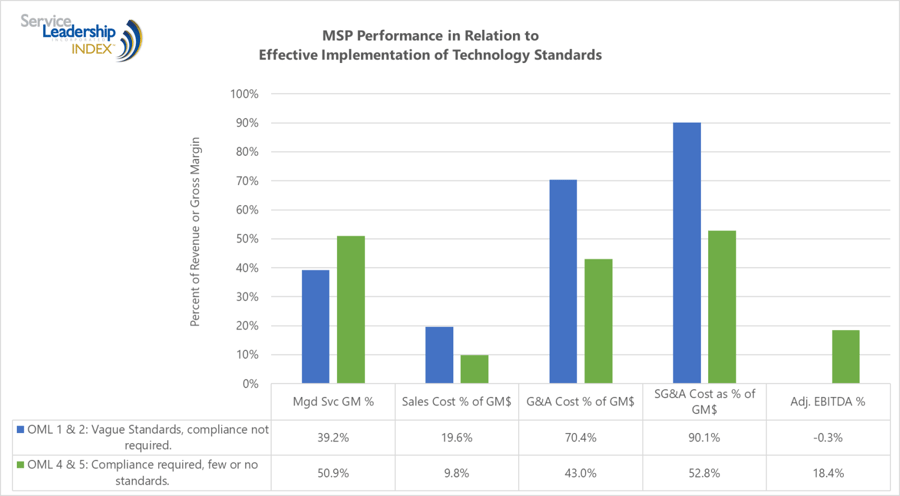 We also worked with MSPCFO to look at customers who were on finance agreements (specifically HaaR contracts) and how that influences service efficiency. What we found when we looked at 16 end-user clients who were sold Hardware as a Rental deals, is three quarters of the deals led to improved labor profitability. On these deals, profitability improved by almost $50/hour.
Financing Can Influence Managed Services Growth and Profitability
While we truly believe financing can influence the profitability and ultimate growth of your managed services, we don't necessarily think you need to focus on financing. Furthermore, focusing on the outcome of more profitable managed services isn't the answer either. Instead, spend time in your business working towards standardization, knowing that the outcome is more profit on your managed services.
Hungry for other practical tactics to improve your As-A-Service strategies? Request an As-A-Service OML evaluation to see the steps you can be taking today to evolve your Managed Services business to an Everything-As-A-Service business.
Cody Jandik
Cody Jandik is the Vice President of Sales for the Data Group at GreatAmerica Financial Services. He focuses on the strategies behind the sales team, helping them grow and be the best sales reps in the financing industry. Cody started his career at GreatAmerica in 2011 as the Director of Vendor Relationship Development and maintained that role until moving into his current position in 2017. He has spent all six years in the Communications and Data Group, and only 3 months outside the Data team.