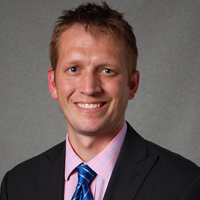 ---
Why are MSPs selling more hardware today than in any quarter of the past 3 years?
A Recap of Part 1: EXCLUSIVE SURVEY RESULTS: Tactical Plans of Top Performers
"We're in the recurring revenue business, not the hardware business…"

"I'm paid to sell Managed Services, not product…"

"Let's get the Managed Services contract in place, then we will figure out the hardware…"

"We scope out the hardware and then they can buy it from us or go get it themselves…"

"Product margin isn't that important to us, we make our money on the recurring revenue…"
Do any of these sound familiar to you? Anyone? Anyone? Bueller?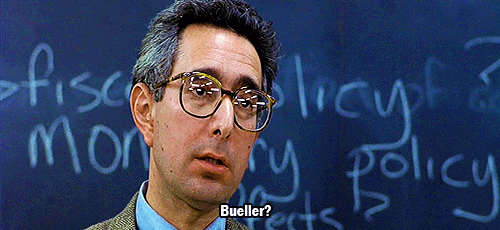 Should MSPs be in the Hardware Business?
Over the last decade working with Managed Service Providers, I have heard variations of these statements a hundred times. I hear them from owners, CFOs, VCIOs, sales leaders and sales professionals. Now I'm not saying that everyone reading this is guilty of saying - or more importantly - believing the statements above. But I will say a large segment of the channel still has an inexplicable reluctance (bordering on a phobia) to admitting the importance of having a strong product sales mentality baked in with their managed services offering.
For those of you that have worked through your Venderebonadurumphobia (the closest Latin translation I could get to fear of selling hardware), my hat is off to you and the results below will be a comfort to you. For those of you still straddling the line, perhaps a nudge from the venerable Paul Dippell will get you over the edge.
Service Leadership Webcast and Survey Results
Paul and I recently hosted a webinar focused on the results of a Service Leadership, Inc. survey sent to business owners in the IT and Managed Services Channel. There was a wide range of questions and categories, and the results were comprehensive. Naturally, I did no number-analysis whatsoever and deferred entirely to Paul. With that said, my ability to translate what Paul said into digestible information is off the charts (slightly above average), so let's take a look.
WATCH: Webcast Part 1 Recording: Tactical Plans of Top Performers
How Some MSPs Are Increasing Product Resale
The first section we will look at is how Best-in-Class (BIC) MSPs are increasing their product resale at a much more rapid pace than both the Median and the Bottom Quartile. The chart below shows just how much more quickly their revenue has grown.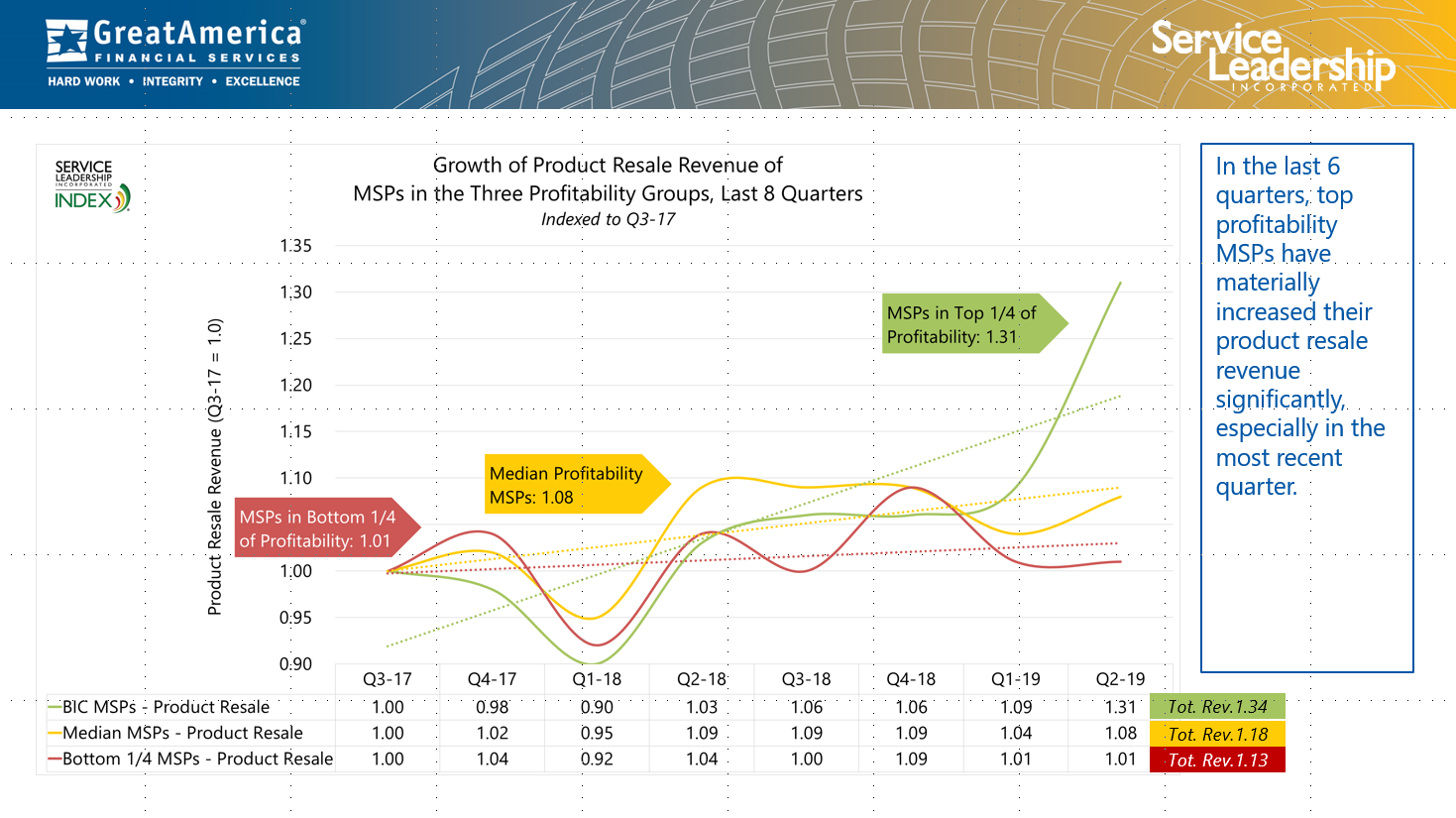 In the last 6 quarters, top profitability MSPs have materially increased their product resale revenue significantly, especially in the most recent quarter.

Is Microsoft End of Life Driving More Product Sales for MSPs?
Now, quite a few of you are probably immediately going to "Yeah, but it's Windows 7 end of life…". Admittedly, that is where my head initially went as well. Paul does address this during the webcast.
The comment Paul made during this slide was, "This begs the question, is the spike up in product resale revenue simply a result of Microsoft End of Life (EoL)? It possibly is, but it's important to note that the revenue mix of the top profitability MSPs isn't really changing much. So, they're selling new Managed Service revenue about as quickly as they are ramping up product revenue."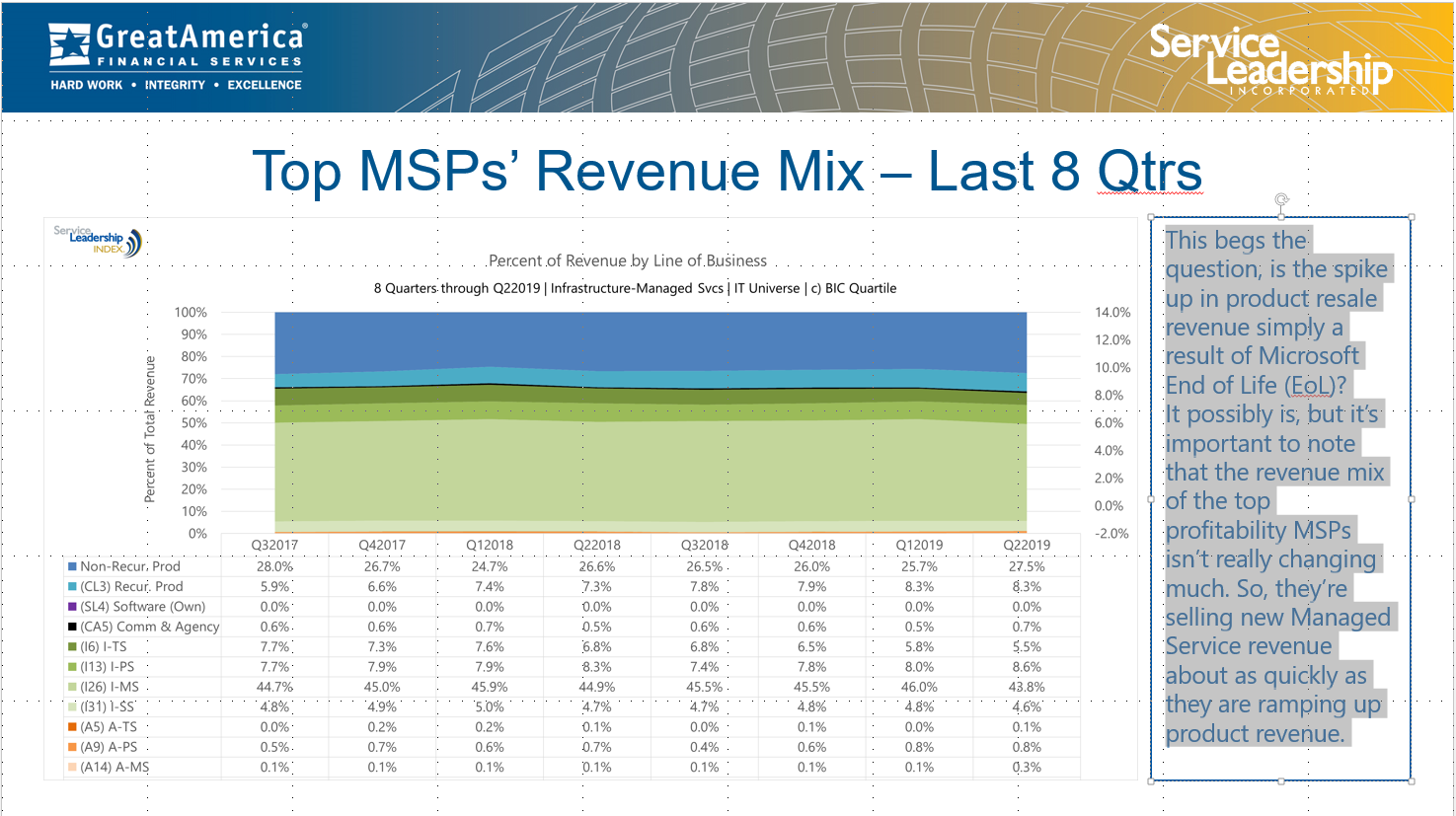 Yes, there may be some correlation to Microsoft EoL contributing to the spike, however that revenue makeup is not changing for the BIC based on the large product sale increase. That means the increase is consistent with standard business growth for the BIC, and it is a key component in their overall strategy.
Need more convincing? It is also made apparent that this fact is consistent with results even further back.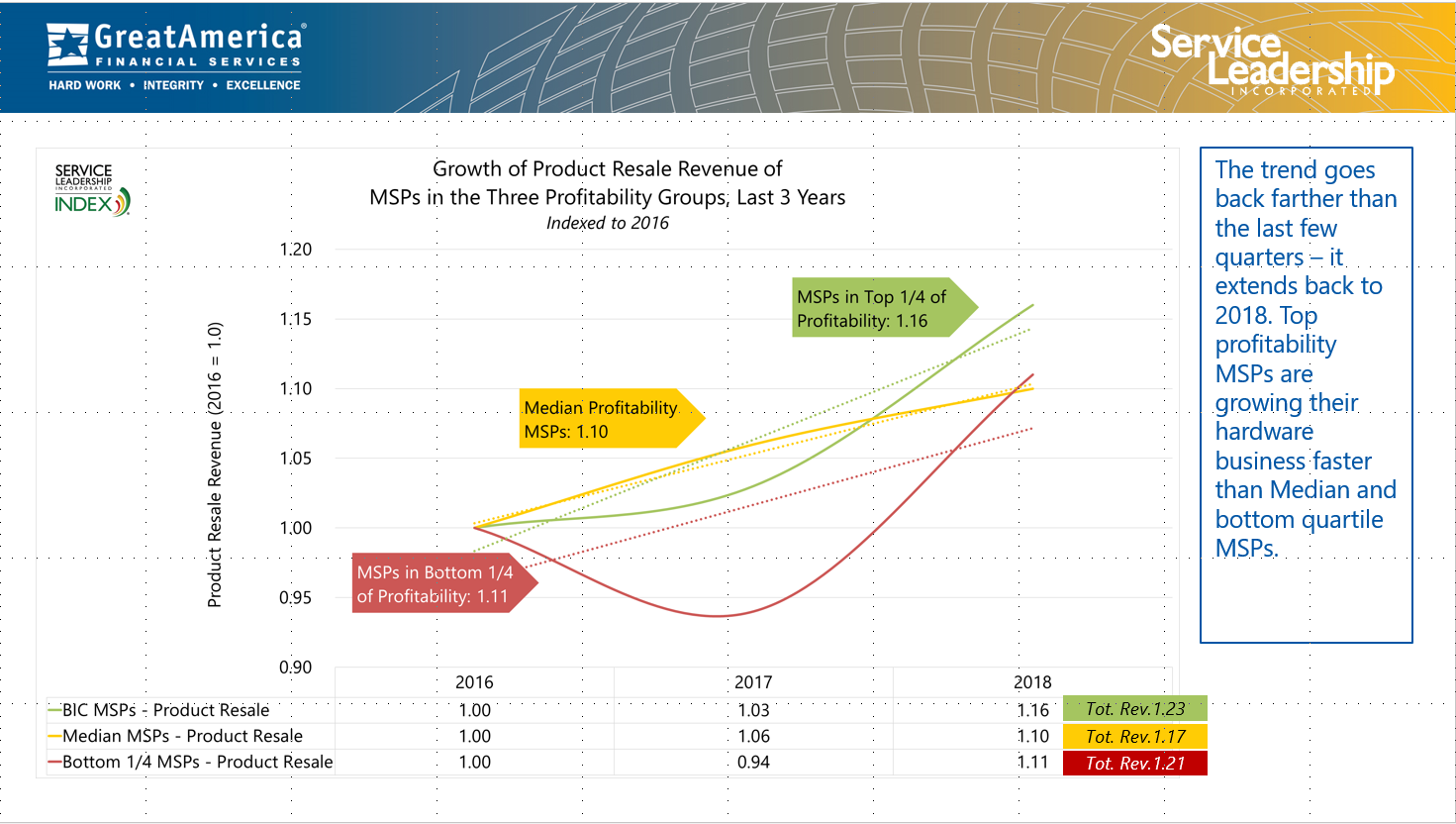 Looking back over the past three years, BIC have steadily grown their product revenue faster than the lower profitability companies, and in 2018 they grew it significantly faster than median quartile MSPs.

Most of you are probably saying, "Okay! Enough! We get it. We need to be crisper around building and delivering a strong product strategy." The rest of you Venderebonadurumphobics are saying: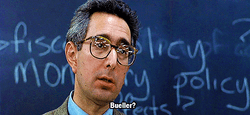 Hey, if you don't like the numbers you can take it up with Paul…but be warned, that guy is a wizard when it comes to analyses.
The Major Downside of Avoiding Product Resale
Here is another important point Paul touches on that needs very little commentary from me:
"The client has to buy product somewhere, and if they aren't buying from you, there are several problems.

You don't get the gross margin dollars.
Somebody else is in the account.
They're putting in things you can't support.

MSPs in the top quartile don't chase product only or project only – but they are very good at harvesting product revenue and doing it at relatively high margins."
Bottom line on this: be the vendor manager you should be here. You will control the technology standards, the technology experience, and you gain the gross margin dollars on the product, along with improving your GM on your recurring revenue.
Because when you do that…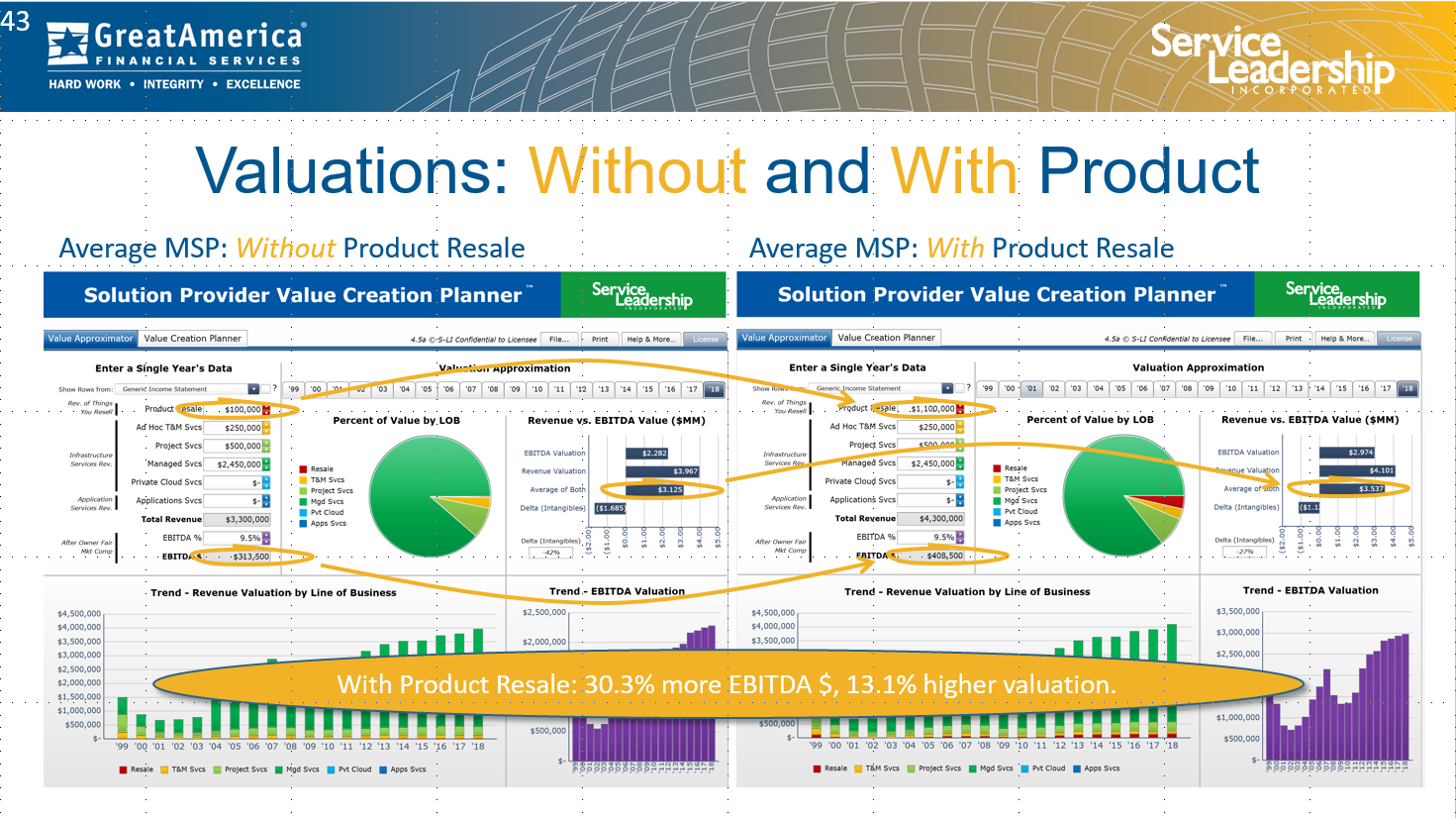 Value creation calculator – average MSP without product resale vs. average MSP WITH product resale.
When it is all said and done, business valuation is a key driver for MSP owners. It may not be at the forefront of everyone's mind all the time, but it is definitely something behind the scenes that is extremely important. In today's M&A environment, it is even more pronounced than usual. On average those that sell product have 30.3% more EBITA and are valued 13.1% higher than those that don't. That's great, right? Most of you here probably sell product. But just remember that those that are BIC are doing it much more often, at higher margins, all while growing their MRR just as fast. The fact that you are 13.1% more valuable than someone not selling product is one thing, but being the best at layering it in with your Managed Services offering is quite another.
If you are going to do it, you might as well be the best at it!
Come and join us for our second webinar. You can also learn more at our breakout at IT Nation next month!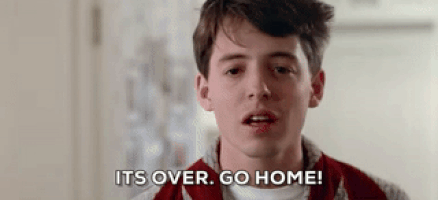 Lee Rozeboom
Lee Rozeboom, Vice President of Strategic Relationships, is responsible for establishing and maintaining relationships with those with influence in the Unified Communications, Low Voltage and IT markets. Lee will also serve as an outward facing voice for our organization and provide oversight and guidance to the Data team. In his previous role, Lee served as the Vice President of Sales for the MSP division. He has been involved in lease financing since 2006. Prior to joining GreatAmerica in 2006, Lee was a Financial Planner, holding his Series 6 and 65, for Northwestern Mutual Financial Network. Lee received his Bachelor of Science in Finance and Marketing from Babson College in Wellesley, MA.