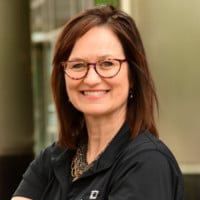 ---
Which Office Technology Events Are Being Impacted by COVID-19 and What You Can Do About It
We've all felt the impact of COVID-19, both personally and professionally, regardless of the industry served. At this point, we don't know how long this period of isolation will last. For many of us, we've been sequestered to our homes, stuck in quarantine with only a laptop and whatever else we could carry home from our offices.
For an industry as closely knit as ours, this is a radical change. The office imaging space has always been bustling with conferences, tradeshows, and dealer meetings; events we all rely on heavily to maintain our presence, make connections, and share best practices. Without these opportunities to gather, connect, and collaborate, how can you stay immersed in the industry we all love so dearly?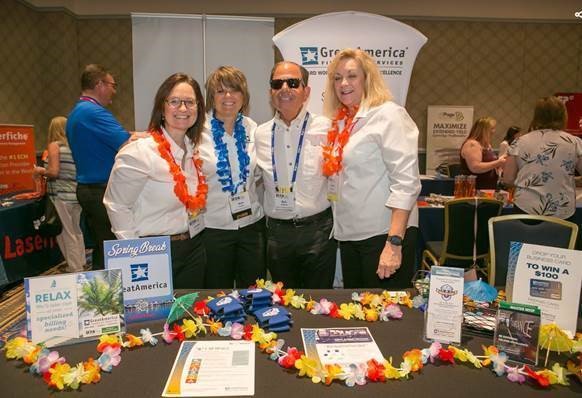 From Left: Josie Heskje, Director, Strategic Marketing, Office Equipment Group at GreatAmerica; Kim Louden, VP of Sales, Office Equipment Group at GreatAmerica; Bob Goldberg, General Counsel at BTA; Carrie Witham, Director of Vendor Relationship Development, Office Equipment Group at GreatAmerica - at the recent BTA Spring Break event.
Our goal here is two-fold:
We want to provide to you a single, current location where you can view information on the tradeshows in our space that have been called off or postponed.


We want to provide you with a few ideas that might help you reap the same benefits of an in-person event.
First: What Office Technology Events Are Still On, Have Been Called Off, Or Rescheduled?
Find the full list below. We will update and timestamp this entry daily. As a pro tip, bookmark this page to stay current on event changes.
As of March 24th, 2020:
Sales Simplicity Seminar
March 24th and 25th in Cedar Rapids, Iowa
Postponed to November 17th - 18th in Cedar Rapids, IA.
HP Reinvent 2020
March 25th – 26th in Anaheim, CA.
CANCELLED
BPCA Spring Meeting
April 13th – 16th in Denver, CO
CANCELLED
ITEX 2020
April 14th – 15th in Orlando, FL
Postponed. New dates not released.
2020 EUG Conference
April 20th – April 23rd in Salt Lake City, UT
CANCELLED
Toshiba LEAD
May 5th – 8th in Las Vegas, NV
CANCELLED
Kyocera Dealer Meeting
May 7th – 8th
Cleveland, OH
CANCELLED
CDA Marketing Summit
May 11th – 13th in Denver, CO
CANCELLED
DocuWorld User & Partner Conference 2020
June 8th – 10th in Orlando, FL
Postponed until 2021. Specific dates to be released.
2020 BTA National Conference
June 11th – 12th in Chicago, Illinois
Postponed. Scheduled for October 1st - 2nd in Chicago, IL.
Drupa 2020
June 16th -26th
Postponed. New Dates: April 20th – 30th, 2021
Second: Now That Most Travel Is Off The Table, How Can You Still Engage?
Whether you are hosting an event, or had plans of sending team members to conferences, conventions, tradeshows, lunch and learns, or open houses by now, you are likely rethinking those plans. While these are certainly unprecedented times, it does open the door to the opportunity to get creative in the way you engage with those you were hoping to see face-to-face. Below are a few ideas for getting some of the benefits facetime virtually.
No More in Person Meetings with Customers/Prospects? Set Up a Video Chat
If you know who was slated to attend an event, send an email to the attendees (or the customers you expected to attend). Let them know that you're disappointed to miss the opportunity to chat with them in person, but that you didn't want to miss the chance to engage. Provide an invitation to meet via video online. Using a web meeting platform with your camera enabled adds a personal touch and allows you to better engage with them, almost as if you were right there in front of them!
There are a number of platforms you can try:
Though most meeting software generally requires a subscription service, many of these companies are waiving their costs for a limited time to help support businesses during this outbreak. Check out this article for a complete list of discounted options.
Did You Have a Booth Reserved? Set Up a Virtual One Instead!
If you had planned to send booth materials and team members to a tradeshow or conference or had plans of hosting a technology open house, and your plans have been disrupted, you can still carry on online! It can be as simple as creating a webpage with a virtual booth, complete with company branding and clickable resource links or downloads. Send an email notifying any attendees they can still visit the virtual version of your booth online!
Were You Slated to Speak at a Convention? Transform Your Presentation into a Webinar
If you put hours into creating a presentation for an industry convention or local event, you can easily take that presentation from the podium to the screen by simply flipping it into a webinar. Not only are webinars great tools for establishing thought-leadership, but they are also fantastic lead-generation tools because, through the registration process, you are able to collect contact information in a way that an in-person event might now allow for. Try using tools like GoToWebinar or Zoom Video Webinars to either live stream or prerecord webinars using the slide presentation you had planned on delivering in person.
Additionally, many of the same companies that offer video web conferencing also offer webinar capabilities, and are some of the same companies you'll find on the list of those offering limited time free or discounted subscriptions at this time. Be sure to browse this list before you commit to paying for a platform.
---
In times like these, where we are faced with an unprecedented crisis, we have an opportunity to shine and differentiate through ingenuity and determination. Luckily, there are so many technologies available, equipping us favorably to thrive in these uncertain times. With a little creativity and a positive mindset, we'll carry on our operations and keep business moving forward.
Josie Heskje
Josie Heskje is Director, Strategic Marketing for the Office Equipment Group at GreatAmerica Financial Services. Using over 20 years of marketing experience, she helps guide the strategic marketing direction of the Office Equipment Group, and is responsible for the marketing and public relations planning and execution for the business unit. She is the former Marketing & Communications Chair of the Managed Print Services Association (MPSA) (and current committee member) and was awarded a 2018 Global MPSA MPS Leadership Award for "Outstanding MPS Contribution" for an individual. She was also named an industry "Difference Maker" in ENX Magazine in both 2015 and 2017.