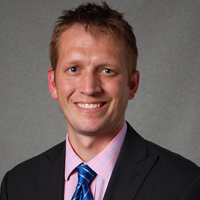 ---
Why HaaS is More Important than Ever – More Insight from Paul Dippell and a High-Growth MSP
What You Missed in Webinar Two with Service Leadership, Nex-Tech, and GreatAmerica
If you have not yet tuned into Part 2: Closing New Business Faster in an Economic Downturn, this blog serves as a high-level recap of what you're missing.
Much like the first webinar of this series, I had the pleasure of presenting some better-than-average information alongside the riveting content Paul Dippell, CEO of Service Leadership, and Steve Riat, Director of Sales at Nex-Tech contributed.
Related: Going All-In with HaaS – Insight from Paul Dippell and a High-Growth MSP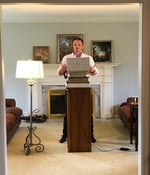 Before I dive in, let me briefly vent. I cannot sugarcoat our reality. The pandemic has and continues to test all of us in a variety of ways. For me most recently, I experienced a 14-day work from home gig. If you look at this picture, you may empathize with my complete and utter readiness to return to the GreatAmerica building – the glorious return happened to fall on the very day of this webinar.
Full HaaS in 2020 – It's Important and Here's Why
While cash is tight and uncertainty is high, businesses are simply trying to figure out how to stay afloat. Many MSPs have dipped their toes in Hardware as a Service (HaaS). The question that this webinar will seek to answer is: how do you get to the point where you're saying, "HaaS is what we do."?
Two Drivers of Full HaaS Right Now
As Paul highlighted in the previous webinar, in Q2, as compared to Q1, 25% of MSPs saw their profitability increase from good to great, per the Service Leadership Index®. How? They applied known best practices for driving growth and profitability including:
Making sure each contract had the greatest value to the client and the highest revenue for themselves, and;
Making sure they moved the client to their technology standards during the onboarding.
A key enabler of these outcomes is offering the fullest HaaS package possible. The goal of full HaaS is to bundle the whole scope of your offering into one simple, predictable, and convenient monthly payment option, presented on one invoice to your customer. The result is standardization across the board, and a higher Operational Maturity Level™ (OML™).
Related: How is Hardware as a Rental Different from a Lease and Hardware as a Service?
HaaS as it Relates to the OML Tool
Paul took over to discuss the Service Leadership tool, the OML. MSPs are segmented into five levels of operational maturity levels. This information is objectively a result of the MSPs' ability to function in alignment with best practices used by top performing-MSPs.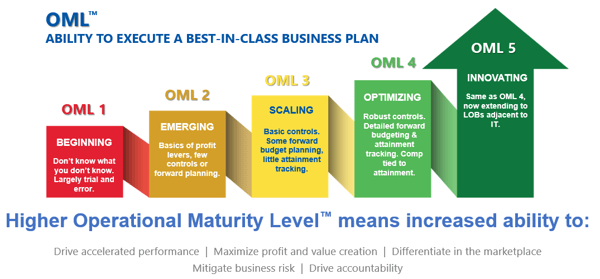 If you follow the management methods that top performers do, you'll have an OML closer to 5. As you would guess, OML is closely related to profitability.

As you can see above, one quarter of MSPs are at the bottom quartile, averaging an OML of 2.6. One quarter of your peers are performing in the top quartile, averaging an OML of 3.8.
So, what are the characteristics of MSPs and their OML when it comes to selling the full managed services package?
OML 1: Sells managed services a la carte* OR full meal if prospect asks for it
OML 2: Tries to sell at least a la carte managed services to every prospect
OML 3: Sells a la carte managed services to most prospects and tries to sell full meal
OML 4: Sells full meal managed services to virtually all prospects
OML 5: Sells full meal managed services to all prospects or sells nothing at all
*A la carte managed services is the theory that any recurring revenue is better than no recurring revenue. For example, selling the customer backup or security is better than not selling anything at all, and you can plan to upsell the customer later on.
Related: Alternatives to Traditional Hardware as a Service
What are Top-Performing MSPs Focused on Right Now?
Going into Q2 2020, Paul saw the typical bifurcation that is normally seen going into a recession. The best in class (BIC) get better, while the bottom quartile get worse. Why is that?
The BIC have better information about their company and their customer base, and therefore can make more strategic business decisions.
The BIC are a lot stickier. By selling full meal managed services, these MSPs are attracting high OML customers, who are often growing their business during a recession as well. High OML MSPs attract high OML customers.
Full meal managed services, as compared to a la carte, gets you 11X the revenue.
What a HaaS Sale Looks Like in Action
Steve Riat, Director of Sales at Nex-Tech, a Service Leadership-benchmarked MSP, has joined the 2020 webinar series with GreatAmerica and Service Leadership because his OML is high and his company has performed exceptionally well throughout the economic downturn. Steve, coincidentally, offers Hardware as a Rental (or HaaR). With Steve's insight and feedback, we wanted to share some examples as it relates to HaaS.
Before Steve dove into a sale, he introduced the McDonald's 'Big Mac' burger. The Big Mac, much like HaaS (the full meal managed services package), is a clear, defined set of products that the global chain consistently delivers to customers. A customer can customize what Nex-Tech offers, but they can't order pizza. It is repeatable, and it's also easy to explain. With HaaR, Nex-Tech has defined every step of the process, and has the ability to deliver a valuable and consistent solution, every time.
In another example, Steve detailed a HaaS sale with a small customer of Nex-Tech. We'll call this customer, Small Business.

Small Business, having around 10 users, gave Nex-Tech a call and asked to have a request for proposal (RFP) filled out. The first step Nex-Tech took was to explain to them the things they were probably struggling with: the machines were inconsistent, failing frequently, the users were unable to communicate effectively, and the security may have holes in it. By identifying and acknowledging the pain points Small Business was experiencing, not only did Steve and his team build trust, but they also ensured their competitive advantage. Nex-Tech then introduced the full meal managed services solution, which would would alleviate all the hassle in trying to make 'junk' technology functional and provide a technology roadmap for Small Business.
Nex-Tech's Q3 Financial Performance Update
Paul jumped back in here to share the financial performance of Nex-Tech (with their consent) through Q3.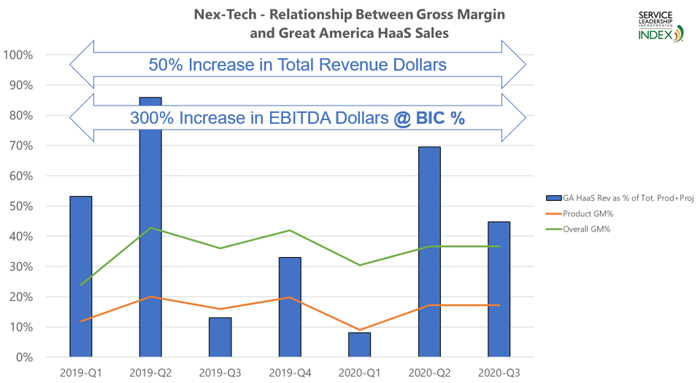 The blue bars above are the proportion of Steve's revenue as a result of GreatAmerica HaaS in comparison to total product and project revenue with Nex-Tech. In Q2 2020, Steve ran 70% of his product and project revenue through GreatAmerica. The orange line is product gross margin. The green line is the overall gross margin. This shows that as Steve increases the proportion of product and project revenue through GreatAmerica, his product and overall gross margin increase. It's a pretty straightforward correlation that simply supports: HaaR works.
According to Paul Dippell, over the course of 8 quarters, Steve has driven a 50% increase in total revenue dollars and a 300% increase in EBITDA dollars.
Your Next Steps to Increasing Your OML
As an MSP, you have standards on everything that you do. Steve has incorporated his standards across every part of his business, and you can too. I would encourage you to take the Hardware as a Service Operational Maturity Level assessment. Get your results, and make a plan to get closer to the next level. GreatAmerica can help you with this every step of the way. The change starts with you!
Lee Rozeboom
Lee Rozeboom, Vice President of Strategic Relationships, is responsible for establishing and maintaining relationships with those with influence in the Unified Communications, Low Voltage and IT markets. Lee will also serve as an outward facing voice for our organization and provide oversight and guidance to the Data team. In his previous role, Lee served as the Vice President of Sales for the MSP division. He has been involved in lease financing since 2006. Prior to joining GreatAmerica in 2006, Lee was a Financial Planner, holding his Series 6 and 65, for Northwestern Mutual Financial Network. Lee received his Bachelor of Science in Finance and Marketing from Babson College in Wellesley, MA.