---
Why Leading With a Monthly Payment Provides Value in Any Economic State
Being in the technology space has provided us an in-depth understanding of how offering a monthly payment option impacts an end user in need of a new technology solution. The current economic implications on businesses unfortunately include severe uncertainty and hesitation around utilizing cash flow; in this blog, we would like to discuss how we see the monthly payment option fitting into today's current set of circumstances for you and your customer.
First, we want to remind you of the benefit the monthly payment provides to your customer when the economy is not reflective of a global pandemic.
Why Customers Choose a Monthly Payment When Times are "Good"
Consider today's trending method of consumption -- many services and products guide you to the monthly payment option. The iPhone is simply one of many examples. Rather than commit to a large, upfront expense, Apple instead provides a convenient, affordable monthly payment option spread out over multiple years. And when the time comes to upgrade to the newest iPhone, it's a rinse-and-repeat process. Such is true with financing.
Along with the convenience factor is another highly attractive benefit: your customer has the opportunity to routinely upgrade to a new, more secure and advanced technology stack, potentially resulting in a competitive advantage and a happy employee base. What does this mean for you, the technology solution provider? With a customer base thriving on modern, fresh and supportable technology, your team can spend less time on service calls and more time on spreading the value of an affordable technology solution!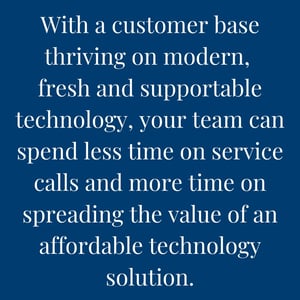 Adjusting to the New "Normal" – What Does Today Look Like?
What you may be running into with your customers now is this: a lot of the businesses you call on are temporarily or indefinitely closed, and many are adjusting to the work from home dynamic. For those working from home, there is a critical need for necessary equipment, network connectivity and protection to do so safely and efficiently.
Related: Five Takeaways on the MSP Market from IT Nation Evolve
With the recent declaration of an economic recession, many customers' uncertainty is skyrocketing, while sales and revenue, along with cash flow, are trending downward. Cash conservation is more important than ever as projects are being put on hold and work forces are being adjusted to accommodate the current implications. Of course there are outliers, but this is a trend among many small businesses across industries.
How Can You Be the Hero Amid a Crisis?
Network performance and security are more important than ever, as the majority of businesses are working from home and striving to continue business as usual. As the technology solution provider, your job is to provide the necessary technology needed within your customer's budget. That is where monthly payments come in.
If your customer's current objective is to conserve cash to continue business operations with minimal revenue flowing in, this likely means their capital budgets are being cut or put on hold, potentially including your IT project proposal. By offering a full technology solution at an affordable monthly payment, you enable your customer the ability to grow their business's operational efficiency to better prepare for the future ahead.
Once a client is accustomed to digesting technology on a monthly basis, future refreshes are predictable and seamless.
What Can The Monthly Payment Include?
At GreatAmerica, our goal is to keep it simple for you, so you can keep it simple for your customer. We are able to finance your standard, full IT experience, including hardware, software, and professional services. For any recurring monthly Managed Services, we are able to bill and collect that for you as well! To further explore what falls into the software financing capabilities, check out this blog.

Best Practices to Help Move Projects Forward
With the majority of projects on hold due to financial constraints and social distancing guidelines, there are still actions you can take to empower customers to consider moving forward. One of them being: proactively bring up the monthly payment option. We often hear customers say they had not considered financing an option simply because it was not brought up in conversation with them.
Another suggestion is to lead with the monthly payment option first. Rather than offer it as a secondary route for the customer to take, save them the challenge of making a cash option work by rearranging their business budget and having to make sacrifices not needed if they opt for the monthly payment option. Recommend it. For example, say, "Once you get accustomed to the monthly model, you're going to have the predictability for years to come and won't have to overcome the capital budget obstacle, plus your technology will stay up-to-date and supportable."
Together, Let's Take Charge of Your Customer's Next IT Project
Be the technology solution provider that says to your customer, "We recognize the financial constraints you may be experiencing. We want to make sure you are aware of the variety of financial solutions we offer to enable you to maximize your cash flow, protect your business, and allow you to allocate your financial resources where they are needed most."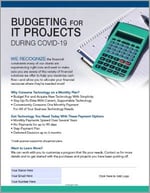 Download this PDF to add to your tool belt, and contact us with any questions or for additional discussion around financing during an uncertain time.
Additional Related Resources:
Is Now the Right Time to Buy or Sell a Solution Provider?
Best Practices for Managing a Remote Workforce
How To Nurture Company Culture With A Distributed Workforce
Help Customers Maintain a Healthy Workspace and Workforce to Continue Business as Usual
GreatAmerica
GreatAmerica is the largest independent, family-owned national commercial equipment finance company in the U.S. and is dedicated to helping manufacturers, vendors, and dealers be more successful and keep their customers for a lifetime. A $2.4 Billion company, GreatAmerica was established in Cedar Rapids, Iowa in 1992 and has a staff of over 600 employees with offices in Iowa, Georgia, Minnesota, and Illinois. In addition to financing, GreatAmerica offers innovative non-financial services to help our customers grow. www.greatamerica.com