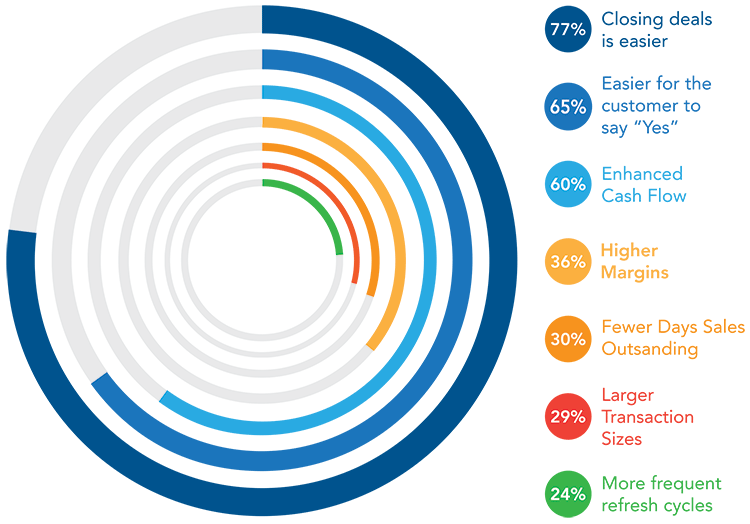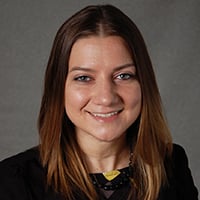 ---
How a Simple Solution Called HaaR is Signaling the End to Sticker Shock
We commissioned a survey last quarter to gauge how much of an impact monthly payment models, similar to As-A-Service, were having on technology businesses and if it's worth changing your model to adopt it. The 200 partners in our survey responded with a resounding YES: Hardware as a Rental® (HaaR®) and other monthly payment approaches that combine hardware, software, installation and services into one invoice are helping sales AND margins.
Here's what Solution Providers like you say are the top benefits: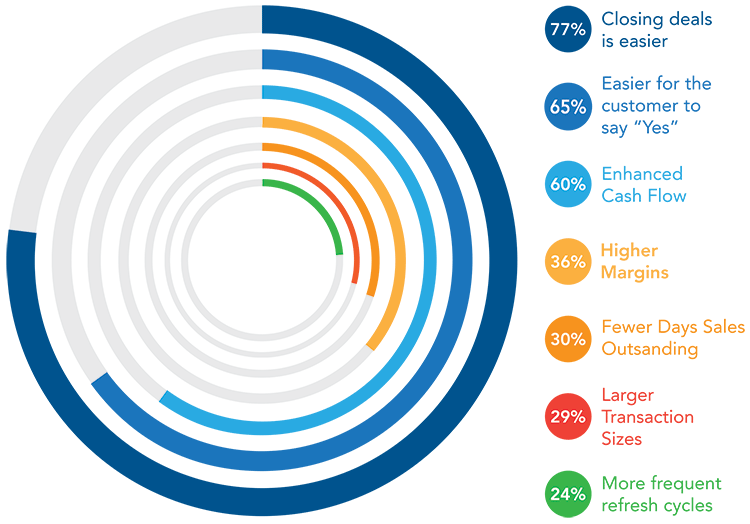 In a nutshell, Solution Providers say it's easier to close deals, and that the frequency, size and margins of their deals have all increased when they offer financing. By leading with a single monthly payment price, their customers don't experience the sticker shock that leads to negotiation. Instead, the customer sees a monthly recurring payment they can fit into their budget, making it easier for them to say "Yes" and for you to close the deal.
"The rental program is perfect for our market place. We are winning deals because of GreatAmerica!" – Mark Machan, Division Manager at VIP Technology Solutions
HaaR gives you the power to offer an As-A-Service model to your customers without the financial risk. Our Solution Providers report larger transaction sizes because adding on hardware or services is easier when it's only an additional $X per month.
"Since working with GreatAmerica, we get better sales margins and our cash flow has improved tremendously." – Brian Hawk, Senior Executive at Vertical Communications
If you're ready to start achieving your company's potential, then reach out to us to learn more about HaaR or visit our Resources Page to learn more.
Stephanie Ragsdale
Stephanie Ragsdale is the Marketing Specialist for the Unified Communications & IT Group at GreatAmerica Financial Services located in Cedar Rapids, Iowa. She provides creative marketing support and helps build brand awareness. Stephanie started her career at GreatAmerica in 2014 when she joined the tax department. Prior to joining GreatAmerica, she designed billboards locally and received her B.B.A degree in Business Marketing and her B.F.A degree in Graphic Design from the University of Iowa.